"The simplest questions are the most profound. Where were you born? Where is your home? Where are you going? What are you doing? Think about these once in a while, and watch your answers change."
Richard Bach
"Our pure awareness is already whole, already healed. If we feel divided inside, the solution is to bring ourselves back to wholeness. Consciousness is its own healer"
Dr. Deepak Chopra
"I have learned that everyone wants to live on the peak of the mountain, without knowing that real happiness is in how it is climbed"
Gabriel Garcia Marquez
"Consistency is contrary to nature, contrary to life. The only completely consistent people are dead"
Aldous Huxley
The Art of
Psychotherapy
Namaste!
Thank you for taking time to get to know me and the work that I do. I invite you to wander through this website, with curiosity and openness. And if you enjoy the experience and would like to pursue the art of psychotherapy, you may reach out to me.
Those who depart from this world without knowing who
they are or what they truly desire, have no freedom here or hereafter.
But those who leave here knowing who they are and what they truly desire, have freedom everywhere, both in this world and the next.
(The Chandogya Upanishad – VIII.1.6).
Know your
Therapist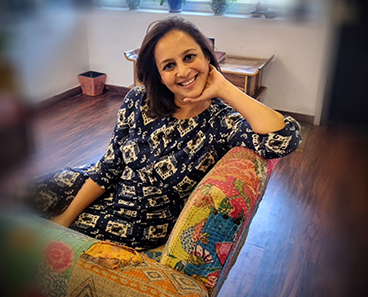 Mumbai, India was my birthplace and home for a few years, until my family immigrated to Dubai, United Arab Emirates, where I lived until I was 18. I moved back to Mumbai to pursue my Bachelor of Arts in Psychology. It was at this stage of my life journey that I discovered a big part of myself, having to function and live independently in a city that was alien to me, especially after a sheltered life in Dubai. It was a challenging experience and a defining phase in my life, and I cherish every part of it.
Presentations & Publications
Papers
We have decided to publish only one themed issue per year in June to mark the anniversary of Your Spiritual Revolution E-magazine's launching.
This article is an exploration of how auditory hallucinations have been experienced as meaningful to individuals diagnosed with schizophrenia.
This article is a qualitative exploration of how auditory hallucinations.